Sense of Purpose Tour 2020 featuring MAOLI w/ Special Guests
Maoli (meaning "Native" in Hawaiian) started in Maui with Glenn Awong, a 14-year-old with a passion for music, and Kana Akiu-Corpuz. In their sophomore year, the aspiring vocalist and bassist began writing original music at the encouragement of their high school teacher. It was also during this time that Glenn started recording demos of his songs. By the time, he reached his senior year, Glenn was ready to share his music with a greater audience.
In 2005, Glenn and the band he formed, "No Boundaries", won a Battle of the Bands competition on the island of Maui. With numerous performances already under his belt, Glenn then formed Maoli in 2007 with a new lineup of talented musicians, including bassist, Kana.
Maoli took the islands by storm in 2008 with their debut album, "Groovin," having one hit after the next ("No One", "Write Me A Letter", and "So Incredible"); this was the groundbreaking album that first established the group as a premiere Hawaiian Island Reggae recording band. In 2010, Maoli did it again with their 2nd release, "Rock Easy", featuring another treasure trove of #1 hits "Breaking My Heart", "Whisper" and "Rock Easy". Their 3rd album entitled, "Arise," took to a national and international audience exploring Maoli's love for various genres of music. "Blew it", "Something about your love" and "Time to get over" are just some of the diverse hits that this album displays. Maoli's road to success continued as they toured the islands and the world promoting their very own unique Island sound.
Maoli embarked on a new journey in 2012, touring on a national level. To capture a wider audience, Maoli traveled from California to New York and beyond. They have toured with some of the biggest and most world renown acts in reggae music such as J Boog, Katchafire, Fiji and others.
In 2015, Maoli dropped their newest EP entitled "One Eighty". The EP included Hawaii's #1 hits "No Way" and "Sun Will Shine" along with others like "Let it go" and "Fight the rain"- original songs penned by the band's founder and leader Glenn Awong.
In December of 2016 the band released "The Best of Maoli," which features 16 hits from previous albums as well as *Bonus Track "Rocky Road" which features PeniDean. Staying true to their roots, Maoli's style continuously evolves.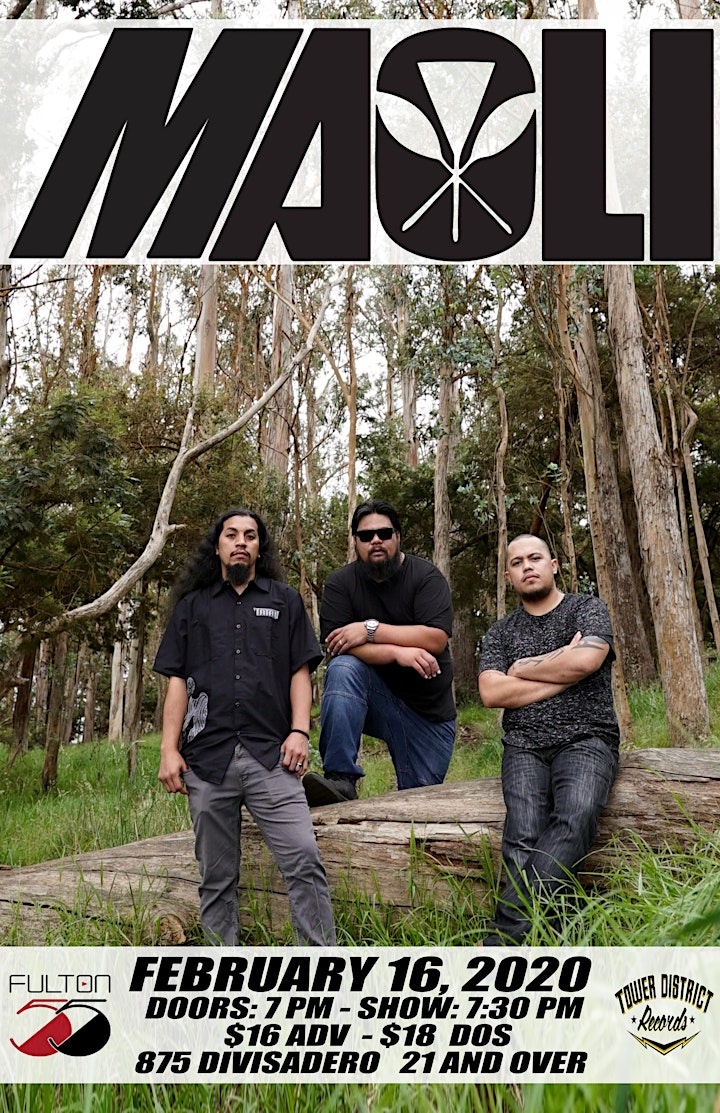 Venue Information:
Fulton 55
875 Divisadero
Fresno, CA, 93721