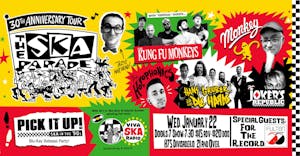 Los Kung Fu Monkeys
Monkey, Hans Gruber and the Die Hards, The Holophonics, Joker's Republic, For The Record
$15.00 - $20.00
Sales Ended
Ska Parade 30th Anniversary Tour
Ska Parade is proud to announce it's 30TH ANNIVERSARY TOUR IN CONJUNCTION w/ the #SKAMOVIE, Pick It Up - Ska in the 90s, release on blu-ray!
The Ska Parade 30th Annv. tour hits the road
And Ska Parade is bringing some friends like Jr Ska Boss & Selecta ScreaM of Viva Ska Radio, who are celebrating their 8th anniversary;
PERFORMING are some of hottest acts
in high rotation on Ska Parade including:
- Los Kung Fu Monkeys - from Tijuana, Mexico;
- MONKEY - from the Bay Area;
- Hans Gruber and the Die Hards - from Austin, TX;
- Holophonics - from Denton, TX;
and Joker's Republic - from NJ!
Plus in between the bands, we are showing customized clips of #PickItUp : Ska in the 90's - the highly acclaimed, award winning documentary narrated by Rancid's Tim Armstrong.
**These shows will be the blu-ray release party
where you may purchase this film!
Plus there will be special guests, prizes, and more!
Please remember to dress your ska best too!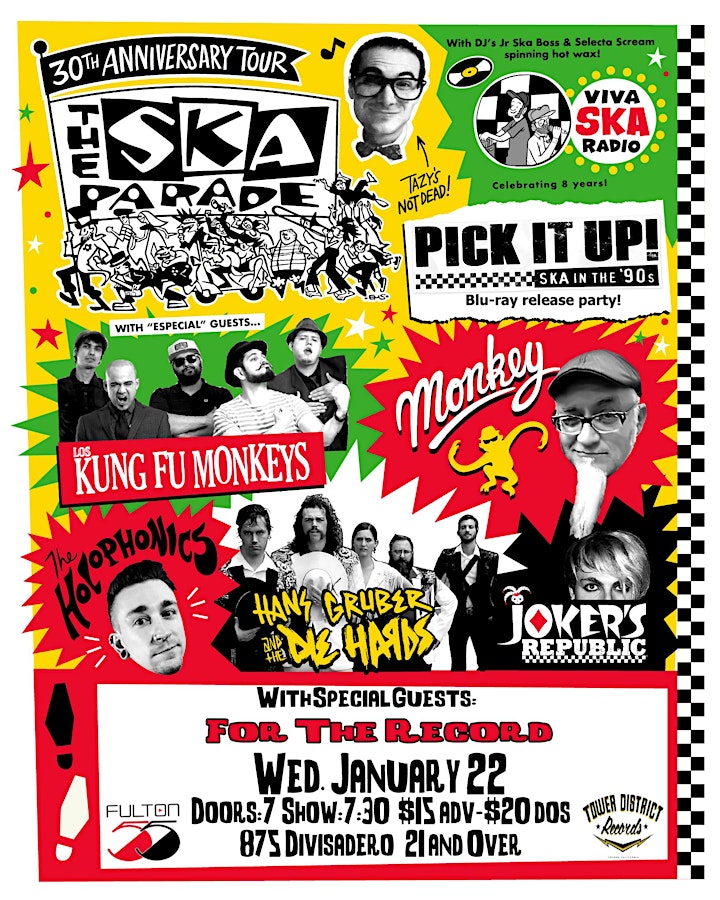 Venue Information:
Fulton 55
875 Divisadero
Fresno, CA, 93721